Yes!! We Are OPEN!! All Aboard The Playtime Express!!!!
(Please call if you want to rent the train on a Weekday or Holiday)

Follow Us and LIKE Our Facebook Page for Monthly Discounts!!!
Check For Availability or Order Now! Simply Click the Train Photo Below!
Order Online Here!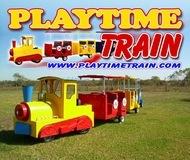 Yes, We Are Open!!! Operating Days Are Fridays, Saturdays and Sundays
(7am - 10pm)
All Aboard The Playtime Express!
Playtime Enterprises, LLC is located in Humble/Atascocita, TX and serves Houston, TX and the surrounding areas.

The Playtime Express is Houston's premier trackless train. Our train is cleaned and sanitized before and after each use. Our train has a full service radio system. It's the best train in the Houston area.

Our Train Comfortably seats 24 Kids (4 to a seat) or 12 Adults (2 to a seat)... Our Train has Covered Tops & Seat Belts...
We are Licensed and Insured. The Train Can Be Used For Various Occasions, Such As....
Birthday Parties (Home & Park)

School Carnivals

Festivals

Holiday Parties

Family Reunions

Grand Openings

Daycare/Summer Camp Events

Corporate Events

Please join Playtime Enterprise LLC for a fun-filled experience aboard The Playtime Express. Our multi-colored, clean and sanitized train is reminiscent of the locomotives of old including (outfitted conductor/train engineer, all aboard bell call and delightful music for the little ones). If you need a trackless train, just give us a call or reserve on-line. It will be a pleasure for Playtime to accommodate your need.

281-961-1984 / 832-819-1636