All Aboard The Playtime Express!!!!
(Please call if you want to rent the train on a Weekday or Holiday)
Check For Availability or Order Now! Simply Click the Train Photo Below!
Order Online Here!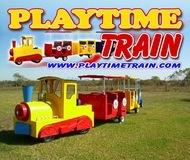 Operating Days Are Fridays, Saturdays and Sundays
(7am - 10pm)

Open Friday, April 28th, May 5th, 12th, 19th
Friday Special: $175 For 1 hr (Discount Code: friday175) / $300 For 2 hrs (Discount Code: friday300)
All Aboard The Playtime Express!
Playtime Enterprises, LLC is located in Humble/Atascocita, TX and serves Houston, TX and the surrounding areas.

The Playtime Express is Houston's premier trackless train. Our train is cleaned and sanitized before and after each use. Our train has a full service radio system. It's the best train in the Houston area.

Our Train Comfortably seats 24 Kids (4 to a seat) or 12 Adults (2 to a seat)... Our Train has Covered Tops & Seat Belts...
We are Licensed and Insured. The Train Can Be Used For Various Occasions, Such As....
Birthday Parties (Home & Park)

School Carnivals

Festivals

Holiday Parties

Family Reunions

Grand Openings

Daycare/Summer Camp Events

Corporate Events

Please join Playtime Enterprise LLC for a fun-filled experience aboard The Playtime Express. Our multi-colored, clean and sanitized train is reminiscent of the locomotives of old including (outfitted conductor/train engineer, all aboard bell call and delightful music for the little ones). If you need a trackless train, just give us a call or reserve on-line. It will be a pleasure for Playtime to accommodate your need.

281-961-1984 / 832-819-1636